Birth of Kwong Wai
Shiu Free Hospital (1910)
During the early 20th century, the dire state of infectious diseases and lack of adequate medical facilities prompted the colonial government to work with the local Chinese community to set up medical facilities. A group of Cantonese merchants then established Kwong Wai Shiu Free Hospital (KWSFH) which was modelled after the Guangzhou Free Hospital. They agreed to use the first Chinese characters of the names of the three Canton prefectures– Guangzhou (Kwong-Chau in Cantonese), Huizhou (Wai-Chau) and Zhaoqing (Shiu-Heng) – for the hospital's name. Wong Ah Fook and Sir John Anderson, Governor of Straits Settlements, then signed an agreement to lease the land for 99 years at an annual rent of one dollar.
The first 50 years (1911- 1960)
The development and running of a charity hospital was fraught with difficulties from the onset. In 1911, inpatient, maternity and medical services, comprising both Western and Chinese medicines, were started in KWSFH.
In order to raise funds for the construction and operation of the hospital, founder Yow Ngan Pan even personally went to different states in Malaya to canvass for donations. On top of that, KWSFH collaborated with Kwong Wai Siew Peck San Theng (a cemetery) to provide free funeral services for deceased patients and their bodies were buried at Peck San Theng. However, one of the toughest periods came during the Second World War. On 15 February 1942, Singapore fell and the Japanese Occupation began. KWSFH continued its operations even during the challenging situation in those three and a half years under the Japanese. Between 1950 and 1959, the hospital embarked on a massive development project to improve its facilities and sanitation. During this period, 11 buildings were constructed or refurbished such as the Maternity Ward, Dormitory Building and kitchen. By 1960, the construction of the Main Building was completed.

The second 50 years (1960s- 2009)

The following decades saw KWSFH expanding its services to reach out to the public. In 1971, it was announced that KWSFH planned to offer its services to all members of the public. In preparation for the change, more doctors (both Western and tradition Chinese medicine practitioners) and nurses were hired. Besides that, improvements were made to existing facilities including the setting up of a pediatrics department.
On 15 June 1974, the hospital finally made the monumental move and opened its doors to all regardless of race, dialect group and religion. The hospital's name also changed from Kwong Wai Shiu Free Hospital to Kwong Wai Shiu Hospital (KWSH).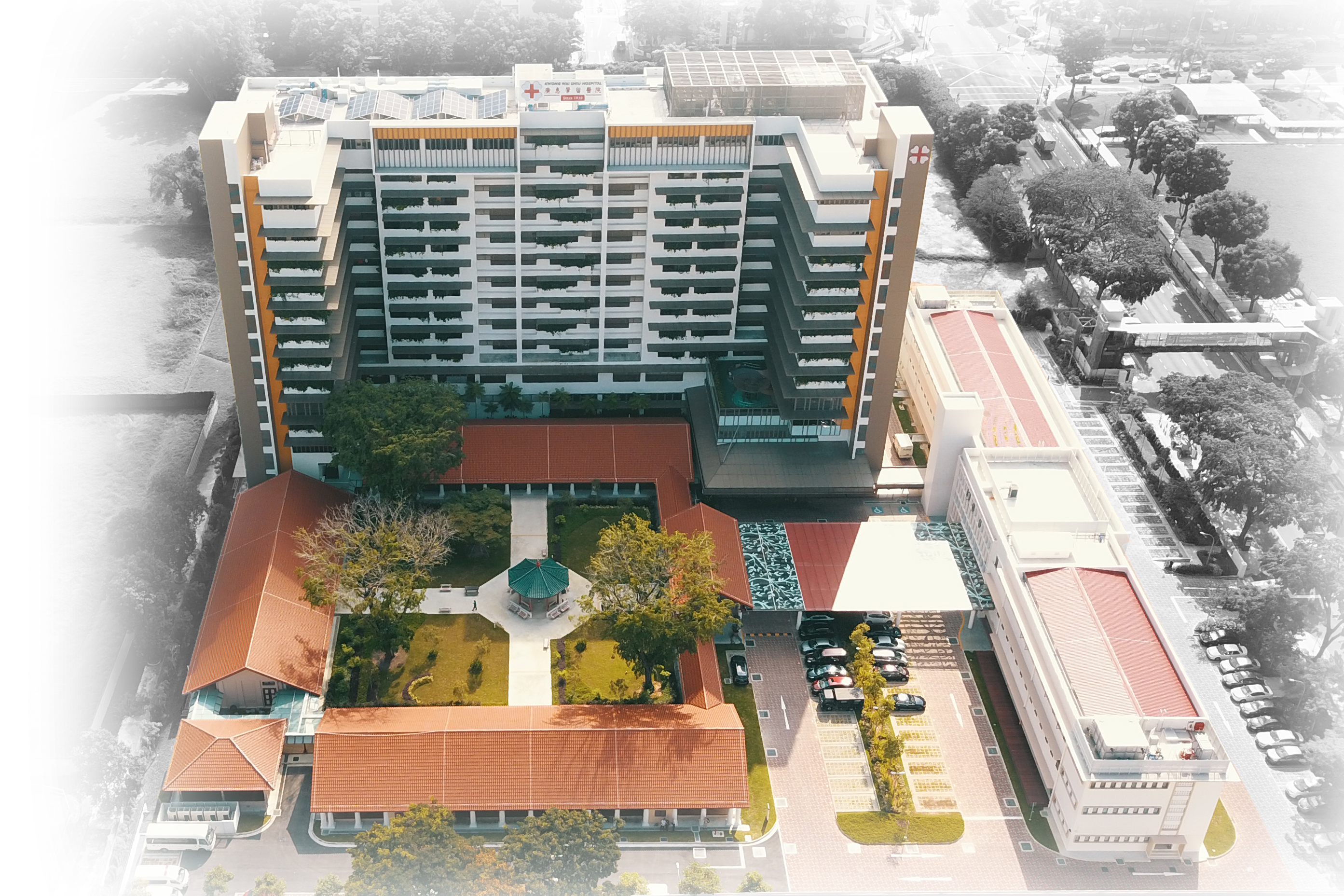 KWSH today and the
next 100 years
Since its founding in 1910, KWSH has continued the strong tradition of community service, having cared for many generations of Singaporeans. It is now one of the most established providers in the intermediate and long-term care (ILTC) sector.
To cope with Singapore's rapidly ageing population, KWSH has undergone redevelopment to be transformed into a regional community healthcare network, providing healthcare services to its inpatients and the community.
In addition to a new 12-storey nursing home building, three Tan Tock Seng Hospital wards, built in the 1850s, and KWSH's Main Building, facing Serangoon Rd, were listed as conserved buildings under the Urban Redevelopment Authority (URA) in 2012. The conserved buildings feature a refurbished TCM Centre, the KWSH Heritage Gallery and training facilities that surround its pavilion garden.
Since 2017, KWSH has extended its services beyond the premises at Serangoon Road with the set up of its first Active Ageing Hub at McNair Road. With the aim of serving the elderly residents in the Kallang and Whampoa region, the hub provides active ageing activities, social programmes, senior day care and rehabilitation services, as well as home-based and centre-based nursing services.

Within the redeveloped premises, the Ministry of Health completed the construction of the 10-storey Kallang Polyclinic in 2021. The building includes 128 nursing home beds with capacity for chronic sick care. Operated by KWSH, these wards cater to patients with advanced and complicated medical conditions that require long-term nursing and frequent medical care. In 2022, KWSH continued to expand its facilities and bed capacity with the opening of KWSH @ Potong Pasir, which operates mainly as a nursing home and houses a Senior Care Centre and a TCM Centre. With this, KWSH has completed its network of care comprising two nursing homes and four satellite care centres.
KWSH Heritage Gallery is a place for reflection and learning. Find out more by visiting us today!