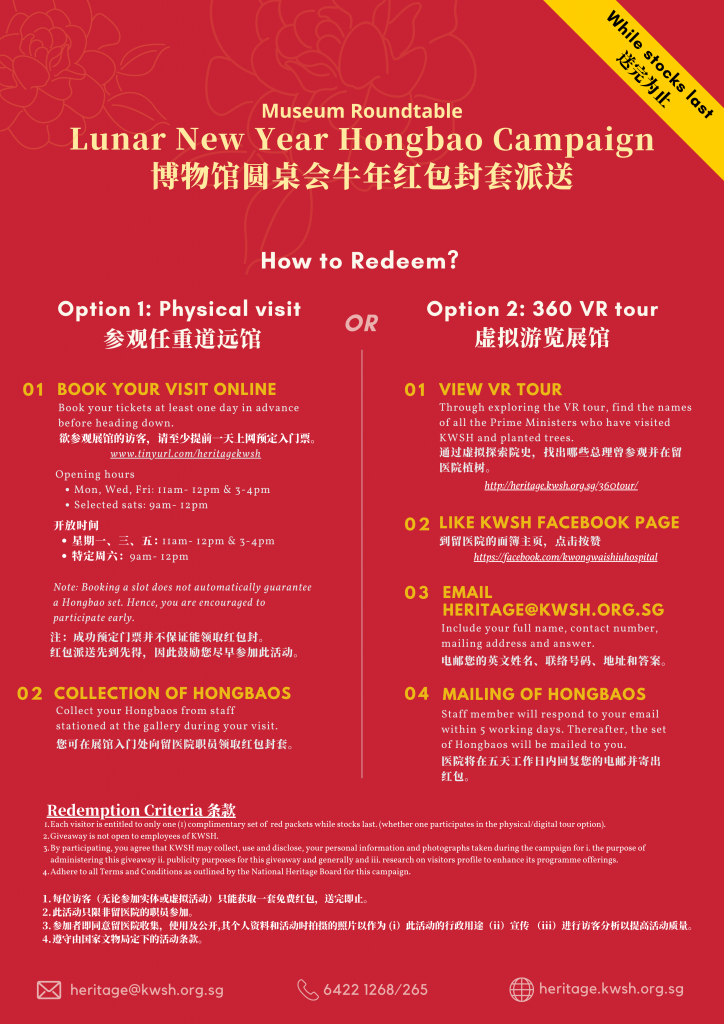 Hongbao Campaign
Museum Roundtable Lunar New Year Hongbao Campaign 2021
Usher in the Year of the Ox with the Museum Roundtable! Kwong Wai Shiu Hospital (KWSH) is one of the 32 participating museums and galleries, giving out specially designed red packets. The red packet features KWSH's iconic Huo Ran pavilion built in 1958. Starting from 22 Jan 2021, you may redeem a set of 8 Hongbaos by visiting our gallery or completing our heritage 360 VR tour.*
For physical visit: Each visitor will receive Hongbaos after visiting the gallery. Booking for the visit must be made one day in advance via https://tinyurl.com/heritagekwsh
For VR tour:
Virtually go through the hospital's heritage trail at https://heritage.kwsh.org.sg/360tour/.
Find the answer to the question "Name all Prime Ministers who have visited KWSH and planted trees."
Next, "Like" KWSH's Facebook page at https://www.facebook.com/kwongwaishiuhospital
Finally, email heritage@kwsh.org.sg with the following details: full name, contact number, mailing address and answer.
The Hongbao will be sent to the address via complimentary local normal mail. (strictly no international/registered mail/ self-collection)
*Terms and conditions apply.
Each visitor is only allowed to redeem one packet comprising 8 Hongbao packets. (regardless of the physical/ digital tour option chosen)
Hongbaos are available on a while-stocks-last basis. Booking a visit slot does not automatically guarantee a Hongbao set. Hence, you are encouraged to participate early.
The giveaway is not open to employees of KWSH
The giveaway ends on 19 Feb 21, or when all Hongbaos have been given out, whichever is earlier.
By participating, you agree that KWSH may collect, use and disclose, your personal information and photographs taken during the campaign for i. the purpose of administering this giveaway ii. publicity purposes for this giveaway and generally and iii. research on visitors profile to enhance its programme offerings.
Adhere to all Terms and Conditions as outlined by the National Heritage Board for this campaign.
Visit https://go.gov.sg/MRHongbao2021 for more information on the Hongbao campaign.
#MuseumRoundtable #RedPacket #hongbao