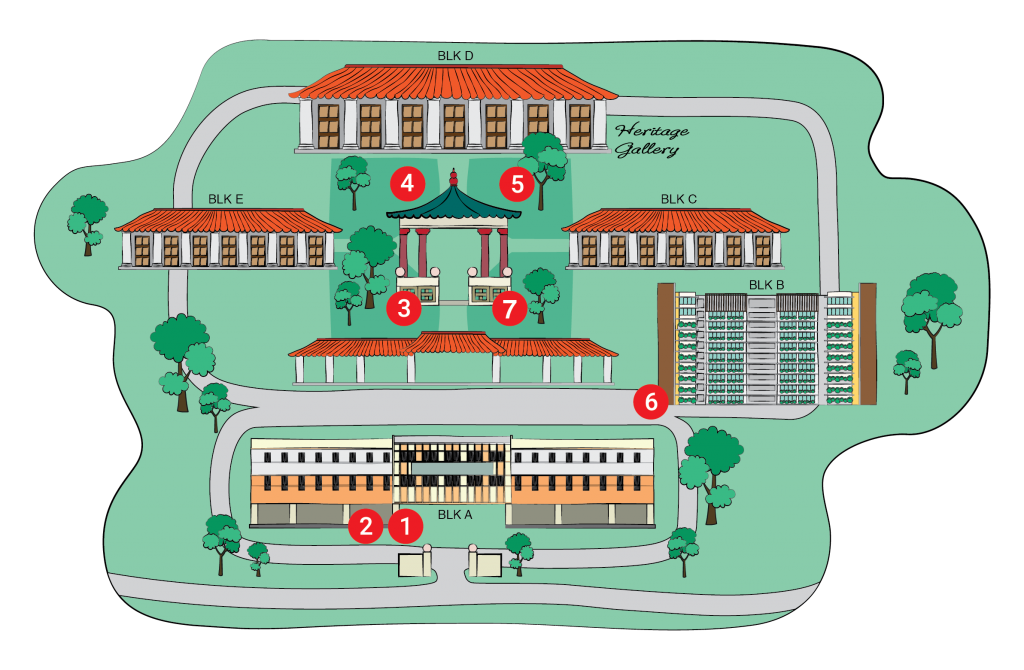 Taking over the former site of Tan Tock Seng Hospital, the oldest buildings in the KWSH compound dates back to more than 160 years ago. The earliest blocks were built in the 1850s by John Turnbull Thomson, the first government surveyor for Singapore.  Join the KWSH heritage trail to find out more about the history of the hospital! There are seven heritage trail markers and a heritage gallery within the compound.
Heritage Trail Map
The Trail begins at the foot of KWSH Modern style three-storey Main Building constructed in 1960. The construction fee of $300,000 was funded by public donation. On 13 December 1959, Mr Leung Yun Chee, the founder of Leung Kai Fook Medical Company, laid the foundation stone for the Main building. With the addition of the Main Building, KWSH was able to accommodate over 300 patients in its 28 medical, obstetric and tuberculosis wards in the 1960s. Today, the Main Building is a key landmark in Serangoon Rd due to its prominent frontage.
Community Hub – Block A
The Main Building no longer houses any ward but is instead used to enhance community healthcare. The KWSH Community Hub houses Kwong Wai Shiu's own Community Training Institute (CTI) and other healthcare providers such as Fresenius Medical Care (renal dialysis centre), HCA (hospice day care) and Healthway Medical (GP Clinic).
The Pavilion
Built in 1958 with the kind donation of Mr Cai Bingkun. The Chinese name of the pavilion, 霍然 (Huo Ran), denotes speedy recovery. Today, the pavilion is an iconic spot of KWSH.
Former Tan Tock Seng Hospital Wards / Tree planted by Mr Goh Chok Tong
Blocks C, D and E are conserved buildings. Built in 1857, the three blocks were formerly the old wards of Tan Tock Seng Hospital till 1909.
To commemorate his visit on the Hospital's Community Care Day, 30 March 2019, Emeritus Senior Minister Mr Goh Chok Tong planted a Cratoxylum Maingayi tree, also known as Derum Bukit, on this spot in KWSH's Heritage Garden.
Tree planted by Mr Lee Kuan Yew
The Flame of Forest tree was planted by then Prime Minister Lee Kuan Yew who visited KWSH on 14 December 1963. This is one of the oldest surviving trees planted by Mr Lee in Singapore. In April 2015 (a month after MrLee Kuan Yew passed away), the tree that was not flowering previously suddenly saw a burst of colourful flora.
Nursing Home – Block B
Six old buildings, which were built as early as 1951, were demolished to make way for the 12-storey nursing home. The old buildings used to house facilities such as a maternity ward, an administration department, a Rehabilitation Centre and TCM Centre.
Tree planted by Mr Lee Hsien Loong
On 6 October 2018, Prime Minister Lee Hsien Loong graced the official opening of redeveloped KWSH and planted a Mempat tree to commemorate the opening.
The gallery was opened in 2018 with the aim of inspiring future generations to uphold the philanthropic values of our forefathers. There are five zones within the gallery and it is demarcated based on the theory of the Five Elements. The theory of the Five Elements refers to the basic building block of the Universe and is a fundamental concept in the Traditional Chinese Medicine. The gallery showcases many memorabilia and stories of individuals whose lives were so intricately connected with that of KWSH. Read More